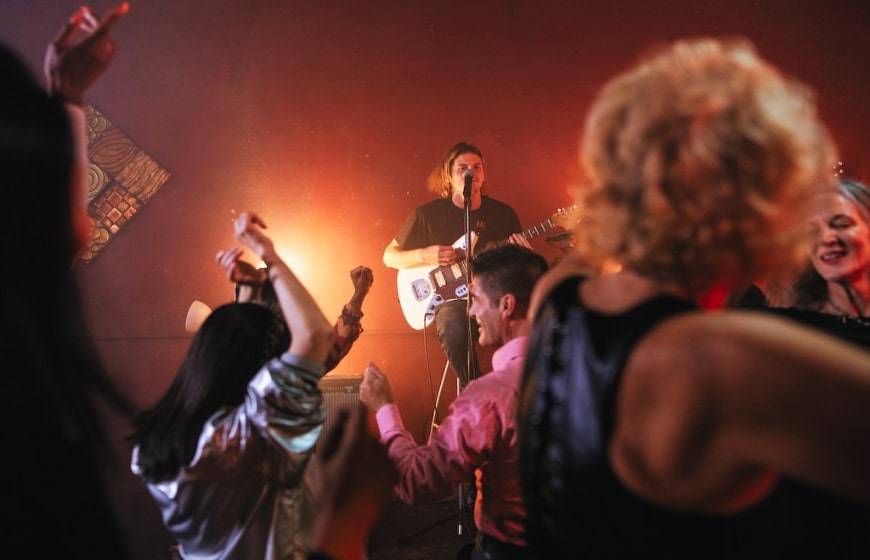 Anna Maria Island perfectly balances laid-back living and a vibrant lifestyle. This unspoiled paradise offers serenity and an energetic atmosphere simultaneously, which is apparent all over the island in the AMI live music and dancing scene. From beachfront music bars to upscale restaurants, melodies, and rhythms are in the air. Anna Maria Island is the ultimate destination if you're looking forward to a lively weekend night out with friends or simply hoping to show off some classic dance moves.
Go-to Spots for AMI Live Music and Dancing
5704 Marina Drive, Holmes Beach – (941) 896-8033
Contrary to its name, The Ugly Grouper epitomizes a beautiful tropical ambiance. With Anna Maria Beach as the backdrop, patrons can listen to various musical genres on the restaurant's outdoor patio. Enjoy tasty dishes like seafood, burgers, and tacos while soaking in the vibe. Craft beers and signature cocktails are also available to cool you off after hitting the dance floor. The Ugly Grouper is open daily from 11 AM to 10 PM. Live music plays from 5 PM to 8 PM on weekdays and 12 PM to 3 PM on weekends.
111 Gulf Dr S Bradenton Beach – (941) 782-1122
Island Time Bar & Grill features a huge indoor dance floor where you can dance the night away. They play a variety of genres ranging from rock, pop, and reggae. However, country music and salsa nights are particularly popular among patrons. Music starts at 7 PM daily, with extra acts on weekend afternoons.
5337 Gulf Drive North Holmes Beach – (941) 251-3930
First of all, don't let the name fool you. While the name may suggest otherwise, Freckled Fin's menu is predominantly American cuisine, with a few Irish-inspired dishes. You can stick with the traditional American pizzas or go full Irish with their classic fish & chips. Freckled Fin is a child-friendly restaurant with exciting regular events, including karaoke nights. It opens at 11 AM daily and closes at 11 PM on Sundays through Thursdays and at 2 AM on Fridays and Saturdays.
135 Bridge St. Bradenton Beach – (9410) 778 4849
The social butterflies should never skip The Bridge Tender Inn (a.k.a. BTI). Combining music, sports, and socialization, this is the best place to meet new friends. Check out its dockside bar area for a chill afternoon listening to blues and contemporary hits. Add the serene view of the Intracoastal Waterway, and you'd never want to leave Anna Maria Island again.
Ask Billi!
For anything and everything on Anna Maria Island, reach out to me by clicking here. I can get you where you want to be by buying, selling, or vacation rentals. We are experts in the local market for vacation home rentals. Please call if we can help you!
Thanks for visiting!