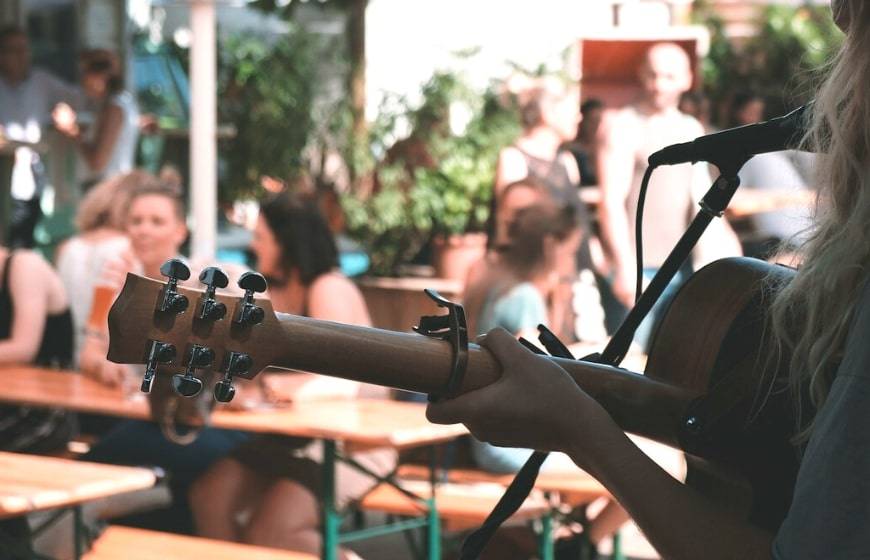 Anna Maria Island live music venues combine picturesque beauty with a diverse music scene. From beachside cafes to lively pubs, the island boasts a variety of venues where you can enjoy live music. In this guide, we will take you on a tour of the best live music venues on Anna Maria Island.
Anna Maria Island Real Estate Market Watch
It took an average of 85 days to sell a home on Anna Maria Island in June 2023. Real estate data changes day by day. If you need to buy or sell a home anywhere on Anna Maria Island, please click here to contact us.
Discover Anna Maria Island Live Music Venues
1. Anna Maria Island Beach Cafe
4000 Gulf Dr, Holmes Beach – (941) 778-0784
The Anna Maria Island Beach Cafe offers a unique setting for live music. Guests can relax under the shade of umbrellas while enjoying talented musicians performing a range of genres. From laid-back acoustic melodies to upbeat tunes, this beachside venue provides the perfect ambiance to complement the soothing ocean waves.
2. Freckled Fin Irish Pub
5337 Gulf Dr, Holmes Beach – (941) 251-3930
At the Freckled Fin Irish Pub, you can expect a vibrant setting to experience energetic live music. Step inside and immerse yourself in the lively atmosphere as local musicians take the stage. From traditional Irish tunes to popular covers, the pub offers a unique musical experience. It is one of the top places to have a drink and enjoy live music.
3. Island Time Bar and Grill
111 Gulf Dr. S, Bradenton Beach – (941) 782-1122
Island Time Bar and Grill is a lively waterfront venue that hosts live music events. With a spacious outdoor patio overlooking the marina, this venue is a delightful setting to enjoy live performances. Savor delicious food, sip on refreshing drinks, and groove to the rhythm of talented musicians.
4. The Doctor's Office
5312 Holmes Blvd. #B, Holmes Beach – (941) 213-9926
The Doctor's Office is not your typical bar. This unique establishment combines a craft cocktail bar with live music, creating an intimate and engaging experience. Step into this cozy venue and enjoy the enchanting tunes of local musicians. The Doctor's Office offers a one-of-a-kind setting for live music enthusiasts.
Ask Billi!
For anything and everything on Anna Maria Island, reach out to me by clicking here. I can get you where you want to be by buying, selling, or vacation rentals. We are experts in the local market for vacation home rentals. Please call if we can help you!
Thanks for visiting!