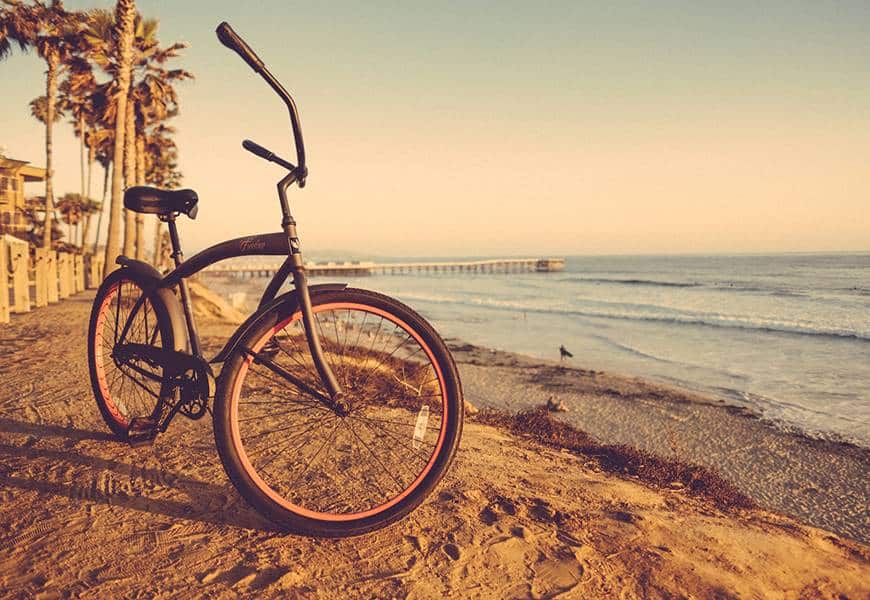 There's nothing like enjoying the brisk sea air as you bike around Anna Maria Island. Biking offers more opportunities for recreation on the island and is also great for getting around. You can explore the many trails for a day of adventure or ride to shopping centers, restaurants, or the beach. Here are a few places to find Anna Maria Island bike rentals on your next vacation.
Find Anna Maria Island Bike Rentals
Lazy Turtle Beach Rentals
314 Pine Avenue, Anna Maria – 941-726-3163
Lazy Turtle Beach Rentals has you covered for all your beach vacation needs. They have nice beach cruiser bicycles, tandem bikes, and attachable kid carrier wagons. Beyond that, you can also rent motorized scooters and beach gear. They even have rentals for paddleboards, bodyboards, surfboards, and more.
Their biggest rental item is golf carts. Most everyone uses a golf cart to get around the island, and Lazy Turtle has you covered if you need one.
In addition, Lazy Turtle has a property management arm to their business. They can help you arrange a great vacation rental for your stay on the island. Whether you're looking for a condo, cottage, or beachfront home, Lazy Turtle can help you find it.
Just 4 Fun
5358 Gulf Drive, Holmes Beach – 941-896-7884
Just 4 Fun is an excellent option for beach rentals and more. They have cruisers, geared bikes, tandems, and tricycles. You can also rent bikes for kids, baby seats, and other accessories.
Beyond the bikes, they have rentals for kayaks, beach gear, and boats. Customers can also rent games and outdoor activity supplies. Just 4 Fun also offers free pickup and delivery service on Anna Maria Island.
Just 4 Fun also handles vacation rentals with a wide range of properties and amenities. They'll make your vacation experience as easy and stress-free as possible.
Real Estate Trends on the Island
As of December 2022, the median listing home price on Anna Maria Island is $2.9 million, with 43 homes for sale. The market for homes has slowed a little, but we're still seeing year-over-year increases in home values.
The average home value on the island is roughly $2.4 million. Homes take roughly 44 days to receive an offer and about 35 days to close escrow.
This information is valid at the time of publication. If you'd like a more current assessment of your home value on Anna Maria Island, please contact us here. We're glad to help!
Are you interested in Anna Maria Island real estate? Contact our team for answers to all your questions. We would be happy to help you buy or sell property on the island.
Thanks for stopping by!