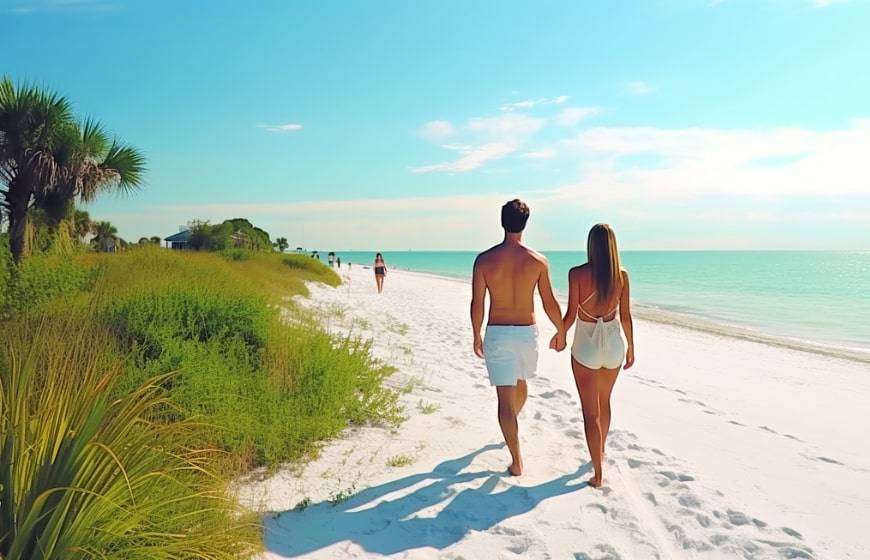 Need some Anna Maria Island date ideas? Whether celebrating a special occasion or craving quality time together, AMI has you covered. Here are six incredible date ideas for your next romantic trip to AMI.
Anna Maria Island Real Estate Market Watch
The average home sales price on Anna Maria Island in July 2023 was $2.6 million. Real estate data changes daily. If you need to buy or sell a home anywhere on Anna Maria Island, please click here to contact us.
6 Anna Maria Island Date Ideas for Your Next Romantic Getaway
1. Sunset Cruise
Set sail on a romantic sunset cruise and soak in the stunning views of the Gulf of Mexico. Couples can find several tour operators offering sunset cruises. Some even have dinner and drinks.
2. Beach Picnic
Pack a picnic basket filled with your favorite snacks and head to the beach for a cozy sunset picnic. You could bring a large towel or blanket or rent beach chairs.
If you want to elevate the experience to something more luxurious, consider Posh Picnic Co. They offer a tailored and exquisite picnic experience and a lavish hotel room.
3. Couples Massage
Indulge in a couples massage at one of AMI's relaxing spas. Body & Sol Spa and Wellness is a top pick, offering all-natural products and even in-room services. Aluna Wellness in Bradenton Beach is another great option.
4. Waterfront Dining
Take in the sights and sounds of the sea while enjoying a romantic dinner at a waterfront restaurant. The Chateau Anna Maria offers a sophisticated dining experience with an extensive menu. The Waterfront Restaurant promises a return to a simpler time with its laid-back atmosphere. Both places have great food and a nice environment for romantic meals.
5. Tandem Bike Ride
Embark on a tandem bike ride along the beach or the island's scenic parks. It's a fun way to enjoy the fresh air and scenery. You could also ride the bike to various romantic locations on the island. Rent tandem bikes and other equipment from places like Fun and More Rentals.
6. Stargazing on the Beach
Escape to a quiet stretch of beach for a stargazing session under the open skies. Anna Maria Island's low light pollution ensures a fantastic celestial display. Check out this website for sunset times, moon phases, and planet visibility during your stay.
Ready to go on a date?
As you can see, Anna Maria Island is a wonderful place for romantic experiences. Try any of these ideas next time you plan a trip with the one you love.
Ask Billi!
For anything and everything on Anna Maria Island, reach out to me by clicking here. I can get you where you want to be with buying, selling, or vacation rentals. We are experts in the local market for vacation home rentals. Please call if we can help you!
Thanks for visiting!