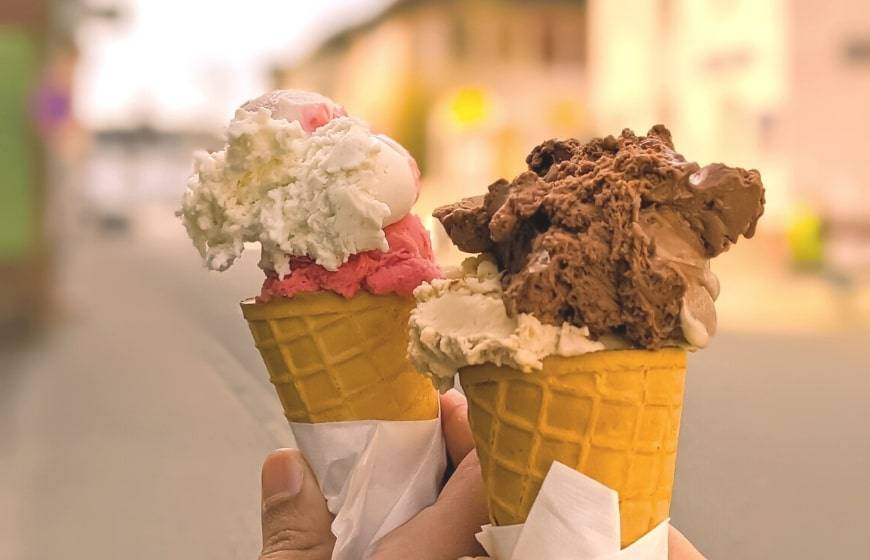 AMI might be a sunny island paradise, but it can get a little hot at times. It makes ice cream and other frozen treats particularly enticing. They taste great and offer a way to cool down. Where should you go for frozen treats on Anna Maria Island? Read on to find some of the top spots on the island!
Anna Maria Island Real Estate Market Watch
The median home sales price on Anna Maria Island in June 2023 was $1,231,250. Real estate data changes day by day. If you need to buy or sell a home anywhere on Anna Maria Island, please click here to contact us.
Exploring the Best Frozen Treats on Anna Maria Island
Two Scoops
101 N Bay Blvd, Anna Maria – (941) 779-2422
Two Scoops is a charming ice cream parlor with a wide range of flavors, from ice cream classics to unique creations. Whether you opt for a cone, cup, or sundae, every bite will offer a satisfying chill.
Island Scoops
103B Gulf Dr N, Bradenton Beach – (941) 592-3866
Island Scoops offers delicious ice cream made from fresh, local ingredients. Their handcrafted ice creams are made with love and care, resulting in creamy and flavorful creations. With various tempting options, including dairy-free and vegan choices, Island Scoops has something for everyone.
Dips Ice Cream
503 Pine Ave, Anna Maria – (941) 778-1706
Dips Ice Cream beckons with its bright and inviting storefront. This family-owned ice cream parlor offers a selection of rotating flavors. Indulge in a classic scoop of ice cream, savor the refreshing sweetness of sorbet, or opt for the creamy goodness of Italian ice.
Holy Cow Ice Cream & Other Cool Stuff
3234 E Bay Dr, Holmes Beach – (941) 779-0690
Holy Cow Ice Cream is a popular spot for frozen treats. Their wide range of flavors and generous portions keep visitors coming back for more. Stroll along the beach and enjoy a cone of their delicious ice cream.
Anna Maria Island Creamery and Bakery
9801 Gulf Dr, Anna Maria – (941) 896-5308
Experience a selection of creamy and baked goodness at Anna Maria Island Creamery and Bakery. This ice cream shop offers various homemade flavors, from classics to creative concoctions. Their bakery also delights visitors with fresh pastries, cakes, and other sweet treats.
Ask Billi!
For anything and everything on Anna Maria Island, reach out to me by clicking here. I can get you where you want to be by buying, selling, or vacation rentals. We are experts in the local market for vacation home rentals. Please call if we can help you!
Thanks for visiting!