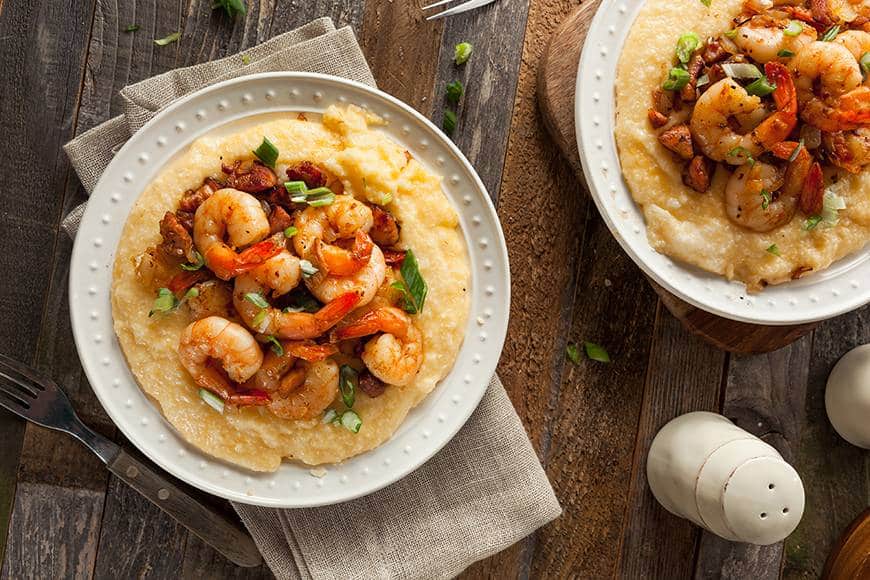 Taste the best of local food on Anna Maria Island, where top-rated eateries and five-star restaurants delight locals and tourists alike. This 7-mile stretch offers culinary adventures for everyone, from tasty breakfasts to mouthwatering seafood dinners.
Curious to find out the most popular dishes on AMI? Keep reading, and let your taste buds guide you!
What to Eat on Anna Maria Island
Blackened Grouper Sandwich
There's something unique about blackened grouper. It tastes similar to bass and halibut with a briny sweetness that is hard to resist. The blackening seasoning also infuses the fish with a subtle spicy flavor that hits the right notes–you can't help but want more!
Try it on The Porch along Gulf Drive, where you'll find sides like asparagus or Brussels sprouts and French fries.
Shrimp and Grits
If you're looking for a satisfyingly decadent meal, check out the shrimp and grits from Blue Marlin Seafood Restaurant at Bradenton Beach.
The grits are cheesy and rich, with perfectly seared shrimp and a tomato-based sauce. This dish is truly one of the best in town!
Seafood Omelet
The famous seafood omelet from Rod and Reel Pier Restaurant is a classic breakfast dish with a twist. This savory omelet is filled with shrimp, scallops, crabmeat, and cheese—an excellent way to start your day!
It also comes with toast and home fries and will be a hit with everyone at your table!
Key West Pink Shrimp
Island Fresh Market at Holmes Beach offers Key West pink shrimp for sale. These are fresh, delicious, and full of flavor. They can also be steamed or boiled and served with a cocktail sauce with a nice tang and spice.
Another local favorite is the low-country shrimp boil!
Baked Cinnamon Rolls
It's no secret that Ginny and Jane E's Cafe is the best place in town to get cinnamon rolls. Their cinnamon rolls are huge and covered in so much icing that you'll need a knife and fork to eat them! Pair one with a cup of coffee, and you're good to go.
Fresh and Baked Oysters
Fresh raw oysters from Anna Maria Oyster Bar on the Pier are the perfect taste of the sea. They're salty and sweet and just chewie enough to make them satisfying without being overpowering.
The restaurant also serves them baked or steamed in tequila lime sauce, chipotle seasoning, or garlic parmesan. You can even get them Rockefeller-style!
Discover Anna Maria Island like never before! Ask Billi!
For anything and everything on Anna Maria Island, contact me by clicking here. I can get you where you want to be by buying, selling, or vacation rentals. We are experts in the local market for vacation home rentals. Please call if we can help you!
Thanks for visiting!