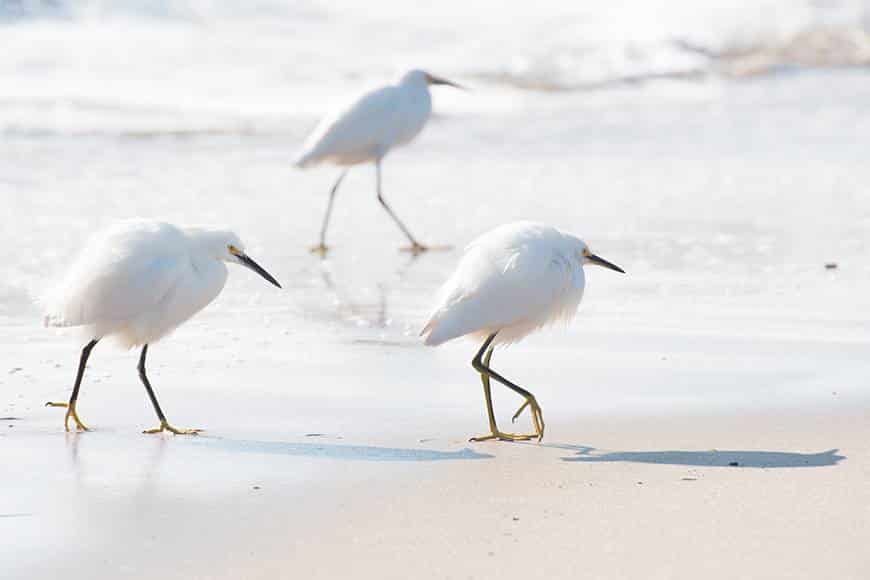 Calling all bird enthusiasts and nature lovers, it's almost springtime, meaning it's time for birdwatching on Anna Maria Island (AMI). Being the nesting season, you can expect to see a variety of bird species—indigenous and migratory alike. Some birdwatchers' favorites include egrets, herons, spoonbills, hawks, ospreys, willets, and skimmers. So, pack up your binoculars and cameras as you check these bird-viewing spots.
Best Spots For Birdwatching on Anna Maria Island
Coquina Beach Baywalk
Coquina Beach Baywalk is a nature preserve at the island's southern end. It offers an immersive experience for observers who want to watch the birds up close and personal. Some local species you can look forward to seeing here include Blue Herons, Reddish Egrets, and endangered Snowy Plovers. Coquina Beach Baywalk is also home to other wildlife like manatees, dolphins, and turtles. In addition, it has over 50,000 native plants scattered throughout its 30-acre conservation area.
Bean Point
Another coastal birding spot, Bean Point, is at the other end of Anna Maria Island. It features sandy beaches, thriving pine trees, and a peaceful atmosphere, making it an ideal habitat for birds. The area is home to beach birds like Brown Pelicans, Royal Terns, Ospreys, and Laughing Gulls. Bean Point is for more than just birdwatchers. It is a must-visit destination for anglers and beach-goers, surrounded by Tampa Bay and the Gulf of Mexico.
Anna Maria Island Community Center
The Anna Maria Island Community Center is perfect for families traveling to AMI to watch their feathered friends. This non-profit center offers a variety of programs and events, including birdwatching. Its Nature Walk & Talk series takes visitors on guided tours through its bird sanctuary and butterfly garden. You can count on seeing shorebirds like sandpipers, oystercatchers, and black skimmers. Colorful Painted Buntings and Northern Cardinals are also lodgers in the center.
Robinson Preserve
Located in Bradenton, Robinson Preserve consists of 487 acres of nature preserve. Its salt marshes, mangrove swamps, and tidal flats are playgrounds for numerous bird species. You can watch the birds from afar on your bike or have a closer look onboard a kayak or canoe. Also, take advantage of the Tower Boardwalk. This raised walkway gives you a better view of the surrounding wetlands and estuaries, where birds feed and roost. Common birds you can find here are egrets, herons, ibises, ospreys, and bald eagles.
The lush nature preserves and pristine beaches of Anna Maria Island make an excellent habitat for birds and people alike. If these winged wonders chose Anna Maria Island their home, then you can too.
Ask Billi!
For anything and everything on Anna Maria Island, contact me by clicking here. I can get you where you want to be by buying, selling, or vacation rentals. We are experts in the local market for vacation home rentals. Please call if we can help you!
Thanks for visiting!