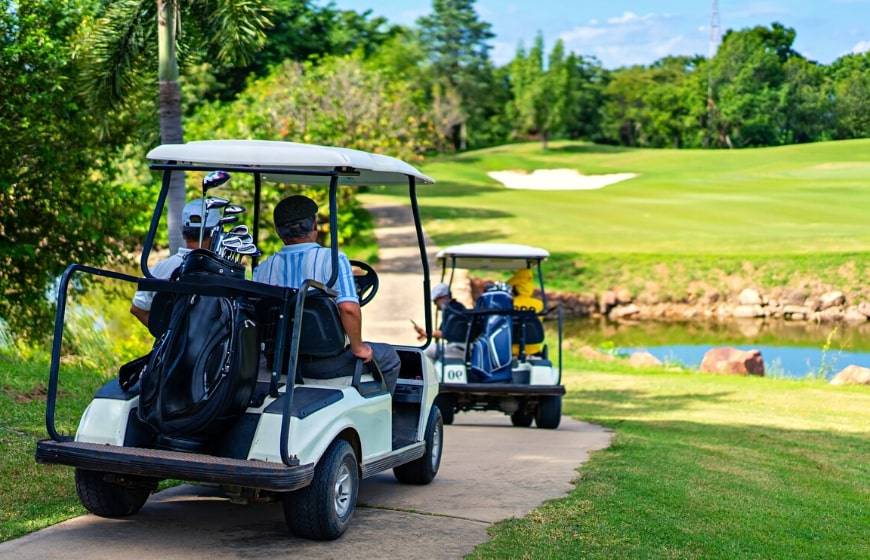 Golf cart safety is essential for a fun day on the greens at Anna Maria Island. As more golfers use carts on the course, knowing the best practices is more important than ever, so everyone can have fun without any accidents or problems!
Here are some safety measures and etiquette rules for making your golfing experience smooth, secure, and enjoyable.
Golf Cart Safety Guidelines
Keep your limbs inside the cart at all times.
Stay safe in golf carts by keeping your hands, arms, and legs inside while on the move. Doing so can protect you from any potential injuries.
Use seat belts
Make sure your golf cart has seatbelts. Wearing seat belts is necessary as soon as the cart is on the road.
Stay on the cart path.
Golf courses have designated paths for carts. It's best to stay on these paths to prevent damaging the turf and the cart.
Abide by all traffic rules.
Like on the road, golf cart drivers should obey traffic signs on the course. Also, drivers should always be aware of their surroundings and take stop signs seriously to prevent accidents.
Take it easy on turns.
Use hand or turn signals and check your blind spots, especially when making left turns.
Avoid obstacles
Ropes, stakes, speed bumps, curbs, and rumble strips are all designed to keep golfers safe and the turf healthy. Golfers should stay on the paved paths and avoid driving over these obstacles. Driving over water sprinklers and near fairway bunkers can also damage the course.
Stay out of protected areas.
Golf courses often have protected areas where golfers should not drive their carts. These areas include water hazards, sand traps, etc.
Yield to pedestrians
Pedestrians still have the right of way, so always yield to them.
Check the surroundings
Many golf carts do not come with mirrors. So, it's essential to thoroughly check the surroundings before moving from place to place.
Maintain a smooth and safe driving style.
Avoid sudden starts, stops, and speed changes. Drive smoothly and safely to prevent accidents.
Bottom Line
The above safety tips are essential when driving a golf cart on a course on Anna Maria Island. By following these guidelines, golfers can stay safe and protect the course for future play.
Discover Anna Maria Island Like Never Before! Ask Billi!
For anything and everything on Anna Maria Island, contact me by clicking here. I can get you where you want to be with buying, selling, or vacation rentals. We are experts in the local market for vacation home rentals.
Thanks for visiting!