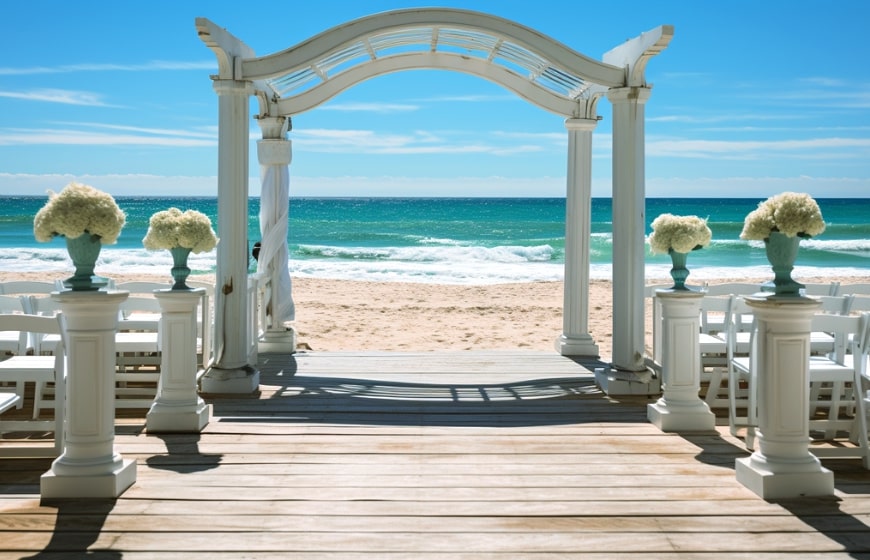 Welcome back to the final part of our series on hosting your dream wedding near Anna Maria Island! In this final installment, we'll explore more stunning venues that will set the stage for your special day.
Anna Maria Island Real Estate Market Watch
As of July 2023, the median price per square foot of homes on Anna Maria Island was $854. Real estate data changes daily. If you need to buy or sell a home anywhere on Anna Maria Island, please click here to contact us.
4 Venues for Your Dream Wedding Near Anna Maria Island
4350 El Conquistador Pkwy, Bradenton – (941) 748-1466
If you're a golf-loving couple searching for the perfect wedding venue, look no further than IMG Academy Golf Club. This hidden gem near Sarasota Bay offers a pristine golf course and a clubhouse with breathtaking bay views. It's a convenient choice just minutes from Sarasota Bradenton International Airport.
Their Riviera Room, Coronado Room, and Grille Room can host up to 270 guests.
4110 127th Street West, Second Floor, Cortez – (941) 794-1235
The Neptune Room is a spacious and flexible space just a short drive from AMI. It is on the second floor of The Seafood Shack Marina, Bar & Grill. It can fit up to 300 people and has a cool seaside vibe. The best part? You get amazing water and sunset views through huge windows.
And don't forget, inside The Seafood Shack, you have more options to explore. Hunter's Point is perfect for intimate events with up to 70 guests. You also have the rustic Marina Pavilion for smaller gatherings of 25–50.
2525 27th St E, Bradenton – (941) 748-5829
The Pavilion at Mixon Farms offers a garden oasis for couples in love. This enchanting wedding venue is a dream for those seeking a natural, romantic setting. Exchange vows beneath a white wooden gazebo, surrounded by lush gardens, a soothing rock waterfall, and a Koi pond.
It can host up to 250 guests. But for a cozier affair, the Mixon Farmhouse Inn awaits, accommodating up to 50. Their experienced team ensures a stress-free planning process.
1102 Riverside Dr, Palmetto – (941) 981-5331
Experience the charm of Palmetto Riverside, an enchanting 1913 residence designated as a National Historic Place. With its serene Manatee River setting, it's a haven for romance.
As a bed and breakfast, they offer six beautifully appointed waterfront rooms. From the elegant ballroom to the outdoor living room with chandeliers, your special moments find the perfect backdrop here. They offer comprehensive amenities and wedding planning services to ensure your day is seamless.
Ready to say "I do" in paradise?
These four wedding venues can offer the perfect setting for your big day. Each one has something unique to stand out from the others. You can also click here to see the venues in part one.
Ask Billi!
For anything and everything on Anna Maria Island, reach out to me by clicking here. I can get you where you want to be with buying, selling, or vacation rentals. We are experts in the local market for vacation home rentals. Please call if we can help you!
Thanks for visiting!