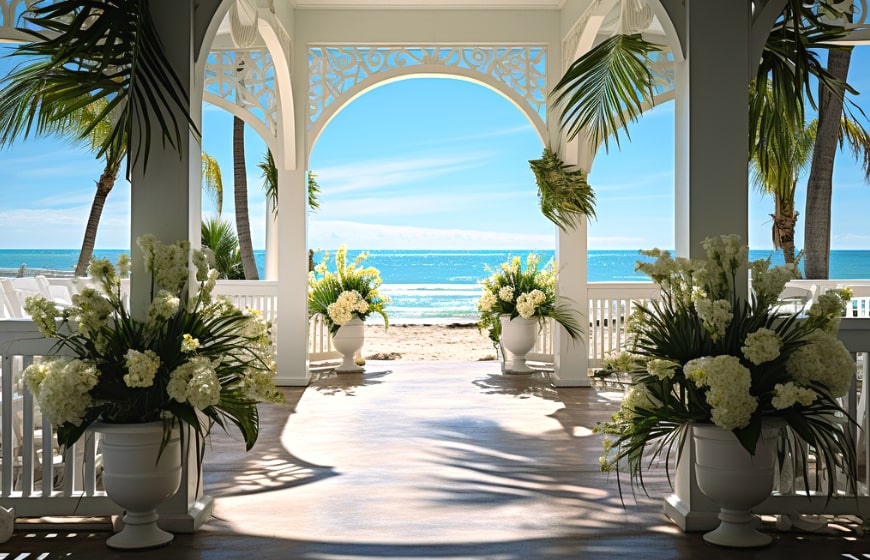 Welcome to the first part of our blog series on hosting your dream wedding on Anna Maria Island. If you've ever dreamed of getting married in a beautiful tropical location, AMI is a good choice.
In this series, we'll show you all the great places to have your wedding on and around Anna Maria Island.
Anna Maria Island Real Estate Market Watch
As of July 2023, the median home sale price on Anna Maria Island was $1,229,166. Real estate data changes daily. If you need to buy or sell a home anywhere on Anna Maria Island, please click here to contact us.
4 Venues to Host Your Dream Wedding on Anna Maria Island
100 Spring Avenue, Anna Maria – (941) 778-0444
The Grand Pavilion at The Sandbar is your dream beachfront wedding venue. It offers Gulf views and accommodates a maximum of 180 guests.
You can get ready in style at The Sandbar Restaurant and exchange vows on the sugar sands. After that, you and your guests can dance the night away in the open-air pavilion.
The Sandbar serves farm-to-table dishes and fresh seafood. They also have a friendly bar staff to keep the drinks flowing.
200 Gulf Drive North, Bradenton Beach – (941) 779-2222
The Sunset Deck at The Beach House is your perfect pick for a dream wedding in paradise! This beautiful venue in Bradenton Beach makes wedding planning a breeze.
With room for up to 100 guests, you can have your ceremony on the white sand by the Gulf of Mexico. Their helpful staff will handle everything, from coordinating your special day to serving delicious seafood and drinks.
760 Broadway St, Longboat Key – (941) 383-2391
Mar Vista Dockside Restaurant & Pub is a dreamy spot for a waterfront wedding. Imagine getting married with Sarasota Bay as your backdrop. It has that old-time Florida vibe, making your big day feel extra special.
You can snap stunning photos among the seagrapes and then head to the Bayview Deck for a magical dinner by the water. Mar Vista Dockside Restaurant & Pub combines nature's beauty, tasty food, and a touch of history for memorable weddings.
900 Gulf Dr N, Bradenton Beach – (941) 778-1919
The Sunset by Gulf Drive Cafe is ideal for saying "I Do," with the Gulf of Mexico's turquoise waters as your backdrop.
They offer two charming tiki huts for your celebration. The Sunset Tiki can accommodate up to 150 guests. It has an open-air layout, white padded chairs, and a dance floor. The Seaside Tiki is cozy for more intimate gatherings of under 25 guests.
You can also have your wedding inside the Gulf Drive Cafe Interior. This space accommodates 30 guests and boasts custom chalk art and a cozy ambiance.
Ready to make your dream wedding a reality?
Anna Maria Island offers the perfect setting for your special day. Stay tuned for Part 2, where we'll explore even more stunning venues to make your wedding unforgettable.
Ask Billi!
For anything and everything on Anna Maria Island, reach out to me by clicking here. I can get you where you want to be with buying, selling, or vacation rentals. We are experts in the local market for vacation home rentals. Please call if we can help you!
Thanks for visiting!