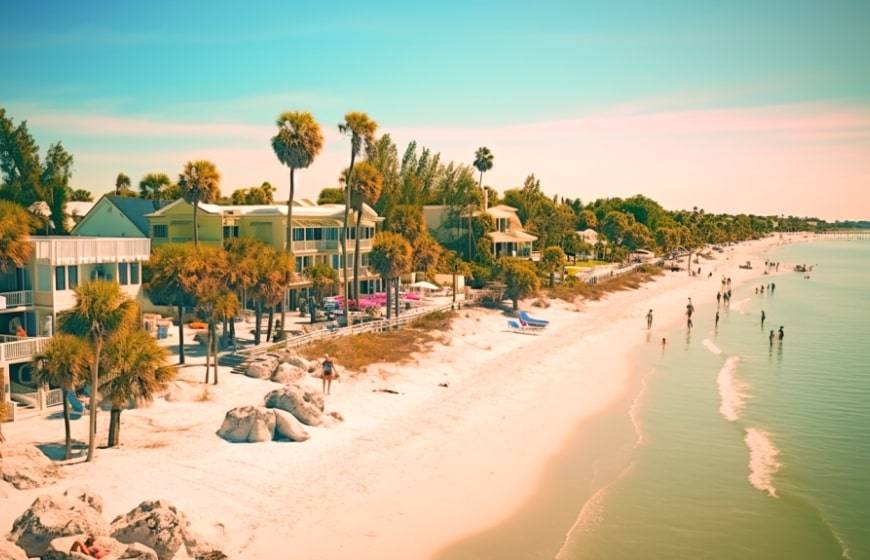 Are you looking for your dream retirement location? Maybe you should retire on Anna Maria Island. It is an island paradise on Florida's Gulf Coast.
What makes AMI such a great place to retire? Read on for some of the top reasons!
Anna Maria Island Real Estate Market Watch
The average number of days it took to sell a home on Anna Maria Island last July 2023 was 108. Real estate data changes daily. If you need to buy or sell a home anywhere on Anna Maria Island, please click here to contact us.
6 Reasons Why You Should Retire on Anna Maria Island
1. Beautiful Beaches
Anna Maria Island is famous for its beautiful beaches. The powdery white sand beckons you to kick off your shoes and walk along the shore. The clear, warm waters provide the perfect setting for swimming and other water activities. It is also a great place for fishing and boating. If you love the beach and the sea, it is hard to beat AMI.
2. Financial Benefits
Florida offers retirees financial benefits that can improve their quality of life. For one, they have no state income tax, meaning more money stays in your pocket. Florida doesn't tax retirement income like pensions or social security benefits. The tax benefits make it easier to stretch your retirement money.
3. Warm Climate Year-Round
Bid farewell to those bone-chilling winters! Anna Maria Island boasts a year-round warm climate. January is the coldest month, with average temperatures in the 60s. No need for heavy coats or snow shovels.
4. Proximity to Amenities
While Anna Maria Island offers tranquility, it's far from isolated. Located near major cities like Tampa and Sarasota, you'll have easy access to top-notch amenities. Enjoy the best of both worlds: a peaceful island retreat and city conveniences when needed.
5. Active Community
Retirement doesn't mean slowing down. On Anna Maria Island, you'll discover a vibrant community of fellow retirees eager to engage in activities and social events. There's never a shortage of ways to stay engaged and make new friends.
6. Strong Sense of Community
One of the most enjoyable aspects of Anna Maria Island is its strong sense of community. Locals are known for their friendliness and welcoming spirit. When you move here, you're not just finding a place to live. You're joining a close-knit island family where you'll quickly feel at home.
Ready to embrace the retirement of your dreams?
AMI is an incredible retirement destination. Along with the sun, the sea, and the outdoors, you'll find a lot of great people. However, you'll need to start looking for a home if you want to retire here.
Ask Billi!
For anything and everything on Anna Maria Island, reach out to me by clicking here. I can get you where you want to be by buying, selling, or vacation rentals. We are experts in the local market for vacation home rentals. Please call if we can help you!
Thanks for visiting!