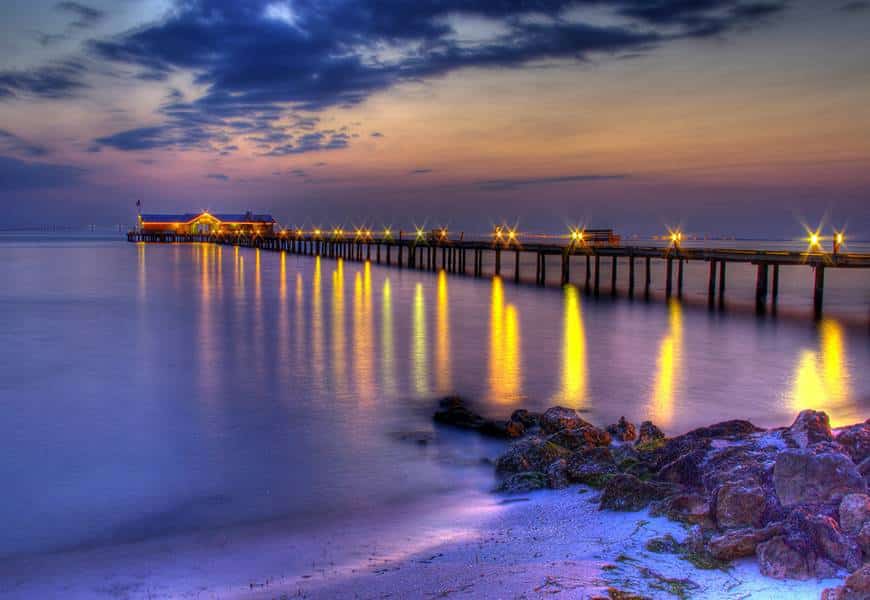 Beaches and water are two of the primary attractions on Anna Maria Island. Beyond that, people love the many piers. Depending on the pier, you can go fishing, dock your boat, or enjoy the sunset. Some piers even have restaurants and shopping nearby. For many visitors, their trip would only be complete with a visit to the Anna Maria Island piers.
Which piers should you visit on your next trip? Read on to learn about some of the island's top piers.
The Top Anna Maria Island Piers
Bridge Street Pier
200 Bridge Street, Bradenton Beach
A stop by the historic Bridge Street Pier can make for a great afternoon. The pier was once the only bridge to the island. The city has since converted it into a dock, a focal point for historic Bridge Street. Visitors can enjoy the pier and views of the water. The clock tower is another attraction of the Bridge Street Pier. What makes it even better is that you have all the shops and restaurants. You can grab an ice cream cone or get a delicious meal at one of the restaurants.
Rod and Reel Pier
875 N Shore Drive, Anna Maria
The Rod and Reel Pier offers a slice of Old Florida. This scenic pier stretches about 350 feet into Tampa Bay. 
It is a popular destination for pier fishing. Along with that, it is also home to the Rod and Reel Restaurant. They serve traditional seafood dishes like grilled grouper, oysters, and shrimp. You can enjoy views of the bay and then head to the restaurant for a good meal.
Anna Maria City Pier
100 N Bay Boulevard, Anna Maria
Anna Maria City Pier is one of the oldest piers on the island. At 700 feet, it is also the longest. It is a popular spot for sightseeing and fishing. Many tropical storms have damaged the pier, but the city always restores it. The pier also provides a nice view of the Sunshine Skyway Bridge. You also have the City Pier Grill & Bait Shop at the end of the pier. It is a great place to dine on fresh fish or to stop for ice cream.
Anna Maria Island Real Estate
The piers are just the beginning of what makes Anna Maria Island a great place to live or vacation. You can read our blog to learn more about the island and its attractions.
Ask Billi!
For anything and everything on Anna Maria Island, reach out to me by clicking here. I can get you where you want to be by buying, selling, or vacation rentals. We are experts in the local market for vacation home rentals. Please call if we can help you!
Thanks for visiting!